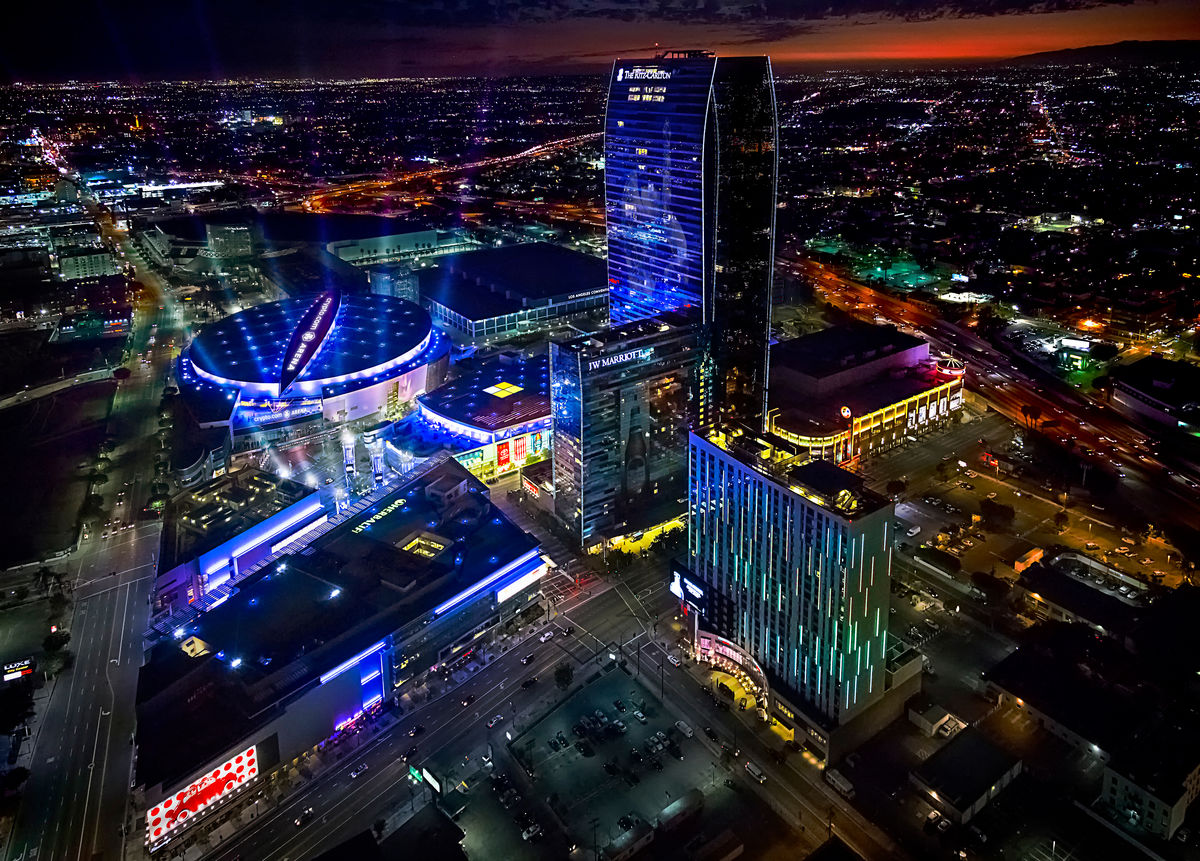 Objective

In 2014, Crypto.com Arena became one of the first sports arenas to adopt LED sports lighting in pursuit of its energy conservation goals. Due to the arena's significant number of events and evolving NBA & NHL guidelines, the lighting package degraded over time. In response, AEG committed to upgrade the LED lighting package as well as address broader lighting needs, including aisle lights.
Approach
A rigorous bidding process led by Anthony James Partners resulted in a partnership with Musco Lighting. In the summer of 2022, while in the middle of a major arena renovation, a comprehensive new lighting package was installed, including 332 tunable game lights, 16 color changing event lights, and 124 aisle lights. While gaining significant energy savings, we also managed to reduce the weight hanging from the catwalk by 8,769 pounds.
Results
In addition to its 15-year warranty, the newly commissioned lighting system provides significant improvements and advanced performance characteristics which pave the way for Crypto.com Arena to continue to operate as a leader within the sports industry. Enhancements include:
Better Visibility – the new system's 348 LED fixtures increased vertical footcandles twofold and nearly doubled horizontal footcandles, significantly increasing light levels and improving visibility on the arena floor to meet NHL guidelines.
Improved Efficiency – compared to the previous LED lights, the new Musco system reduces energy consumption from 109 kW to 67 kW for basketball games and from 235 kW to 142 kW for hockey games.
Enhanced Entertainment – leveraging state-of-the-art special effects capabilities, the new system creates customized, cutting-edge light shows with color-changing technology and music-to-fixture synchronization.
Adaptable Performance – the system features tunable white fixtures, which adjust between warmer and whiter color temperatures to meet the distinct requirements of the NBA, WNBA, and NHL, as well as create unique settings for other distinct events.
Minimized Glare – patented fixture visoring and light control technology minimizes source glare from affecting anyone in the arena for a more comfortable playing and viewing experience for both athletes and spectators.
Trouble-Free Operation – the lights are designed as a complete system with lighting, electrical, and structural components engineered to work together, which ensures reliable, trouble-free operation.
The leadership team at Crypto.com Arena values technology and has a long track record of making capital investments that improve efficiency, enhance fan experiences, and maintain the arena at the highest levels.