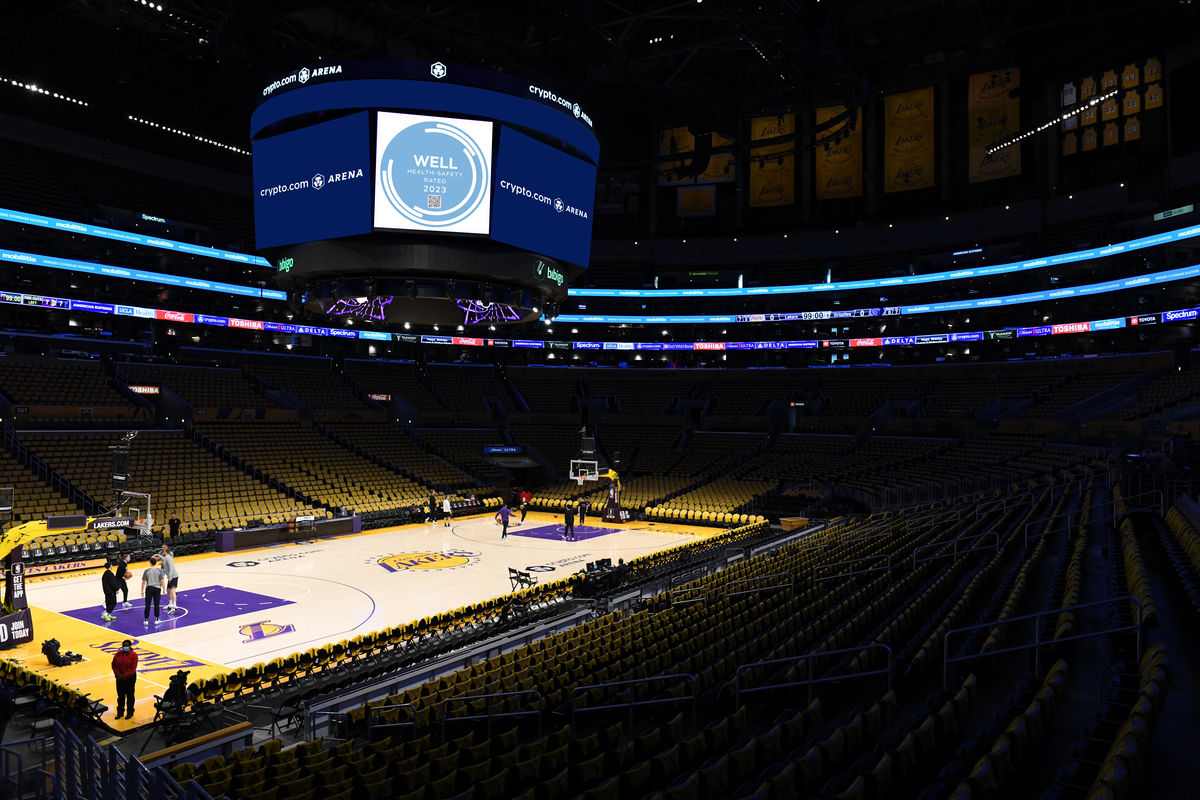 Crypto.com Arena Achieves WELL Health-Safety Rating
Achievement Recognizes Arena's Continued Leadership in Ensuring Health, Well-Being, and Safety of Employees, Tenant Teams, Artists, Guests and Partners
LOS ANGELES & NEW YORK--(BUSINESS WIRE)-- Crypto.com Arena, one of the most iconic sports and music venues in the world, announced today that it has earned the prestigious WELL Health-Safety Rating. One of the leading sports arenas to receive the WELL Health-Safety Rating, the achievement is a testament to the arena's commitment to delivering a culture of health, well-being and safety to all employees and visitors. The award was designated by the International WELL Building Institute (IWBI), the global authority for driving market transformation toward healthy buildings, organizations and communities.
Crypto.com Arena earns the prestigious WELL Health-Safety Rating (Photo: Business Wire)
"As an organization dedicated to delivering the most memorable sports and live entertainment experiences, Crypto.com Arena has been at the forefront of adopting stringent cleaning and safety protocols and was the first NBA, NHL and WNBA Arena to receive the GBAC Star Facility Accreditation in June of 2020," said Lee Zeidman, President of Crypto.com Arena. "This recognition is further evidence of our commitment to ensuring that Crypto.com Arena strives to not only be one of the safest arenas possible, but also promotes an environment that supports the health and well-being of our employees, tenant teams, artists, promoters, guests, and partners."
To achieve the WELL Health-Safety Rating, AEG, owner and operator of Crypto.com Arena, met rigorous requirements related to its operational policies, maintenance protocols and emergency plans. The WELL Health-Safety Rating includes more than 20 features designed to help organizations keep spaces clean and sanitized; provide essential health benefits and services; communicate health and safety efforts; ensure they have adequate emergency preparations and programs; and assess the facility's air and water quality.
The rating was awarded by IWBI to Crypto.com Arena following the successful completion of a third-party documentation review to confirm that the arena met the feature-specific requirements for supporting the long-term health and safety needs of everyone who is working at or visiting the venue.
"Sports and entertainment venues like Crypto.com Arena anchor communities large and small, giving us places to cheer on our home-town teams or see our favorite performers," said Rachel Hodgdon, President and CEO, IWBI. "By achieving the WELL Health-Safety Rating, AEG made sure it's also a place that enhances our health and well-being. Thanks AEG and congratulations!"
The WELL Health-Safety rating is designed to empower owners and operators across large and small businesses alike to take the necessary steps in order to prioritize the health and safety of their staff, visitors and other stakeholders. Informed by the WELL Building Standard and more than 600 building and health scientists, practitioners, representatives from the business community and other experts, the WELL Health-Safety Rating is a roadmap for driving resilience across both business policies and operational plans. The WELL Health-Safety seal communicates a sense of confidence that a venue is maintaining the most effective and up-to-date practices for safety and wellness.
"Congratulations to AEG for achieving the WELL Health-Safety Rating in parallel with GBAC certification! This is a significant achievement that underscores AEG's unwavering commitment to fostering healthy, sustainable communities where we work, live, and play. AEG's dedication to achieving this milestone exemplifies its leadership in sustainability within the sports and entertainment industry, setting a commendable global role model," stated Roger McClendon, Executive Director of the Green Sports Alliance. "The Green Sports Alliance applauds AEG for its investment, focused operations, and prioritization of the well-being of its staff, fans, athletes, and entertainers in its facilities."
About Crypto.com Arena
Crypto.com Arena has undoubtedly developed an unrivaled reputation for excellence having established itself as one of the world's busiest and most successful venues in the world. As the home of four professional sports franchises – the NBA's Los Angeles Lakers and LA Clippers, the NHL's LA Kings and the WNBA's Los Angeles Sparks – Crypto.com Arena has proven to be a home court advantage for the local teams. The AEG owned and operated arena continues to distinguish itself as the host of major, high-profile events of national and international distinction including the 2004, 2011 & 2018 NBA All-Star Games, 2002 & 2017 NHL All-Star Games, 2000 Democratic National Convention, 2009 World Figure Skating Championships and 20 GRAMMY Awards shows. Crypto.com Arena's twenty-three years have also been marked with performances and special events that brought international stature to the downtown Los Angeles venue including concerts by Taylor Swift, Drake, Beyoncé, Prince, U2, Paul McCartney, Garth Brooks, Usher, Jay-Z, Keith Urban, Roger Waters, Britney Spears, Katy Perry, Ed Sheeran, Kendrick Lamar, Michael Bublé, Carrie Underwood and Justin Timberlake, as well as world championship boxing, family shows and special events. Hosting over 250 events a year, the arena's reputation for world-class amenities, features and commitment to quality of service and the guest experience is second to none. These include comfortable seating, state-of-the-art sound and lighting systems, concession stands offering a variety of food and beverages, and merchandise stores where fans can purchase team-related memorabilia. Crypto.com Arena is not only a great venue for sports and entertainment, but it also holds a special place in the hearts of the local community. It has witnessed numerous historic moments, unforgettable performances, and has become an iconic landmark in the city of Los Angeles.
About the International WELL Building Institute
The International WELL Building Institute (IWBI) is a public benefit corporation and the world's leading organization focused on deploying people first places to advance a global culture of health. IWBI mobilizes its community through the administration of the WELL Building Standard (WELL) and its WELL ratings, management of the WELL AP credential, the pursuit of applicable research, the development of educational resources, and advocacy for policies that promote health and wellbeing everywhere. More information on WELL can be found here.
International WELL Building Institute, IWBI, the WELL Building Standard, WELL v2, WELL Certified, WELL AP, WELL Score, The WELL Conference, We Are WELL, the WELL Community Standard, WELL Health-Safety Rating, WELL Health-Safety Rated, WELL Performance Rating, WELL Performance Rated, WELL Equity Rating, WELL Equity Rated, WELL and others, and their related logos are trademarks or rating marks of International WELL Building Institute pbc in the United States and other countries.
About the Green Sports Alliance
The Green Sports Alliance leverages the cultural and market influence of sports to promote healthy, sustainable communities where people live and play. The Green Sports Alliance convenes professional sports leagues, sports governing bodies, colleges, teams, venues, their partners, and millions of fans around meaningful change toward a more sustainable future. Through the Play to Zero® program, it leads the embrace of renewable energy, waste, diversion, water efficiency, and environmentally preferable practices. Through its marquee event greening division, The Green Sports Alliance delivers best-in-class sustainable productions to minimize environmental impacts and maximize community legacies, driving scalability and replications across the industry.
The Green Sports Alliance is committed to sharing best practices, visit greensportsalliance.org for more information. Follow on Instagram, Twitter, LinkedIn, and TikTok. Subscribe to YouTube and Newsletter.
Source: AEG