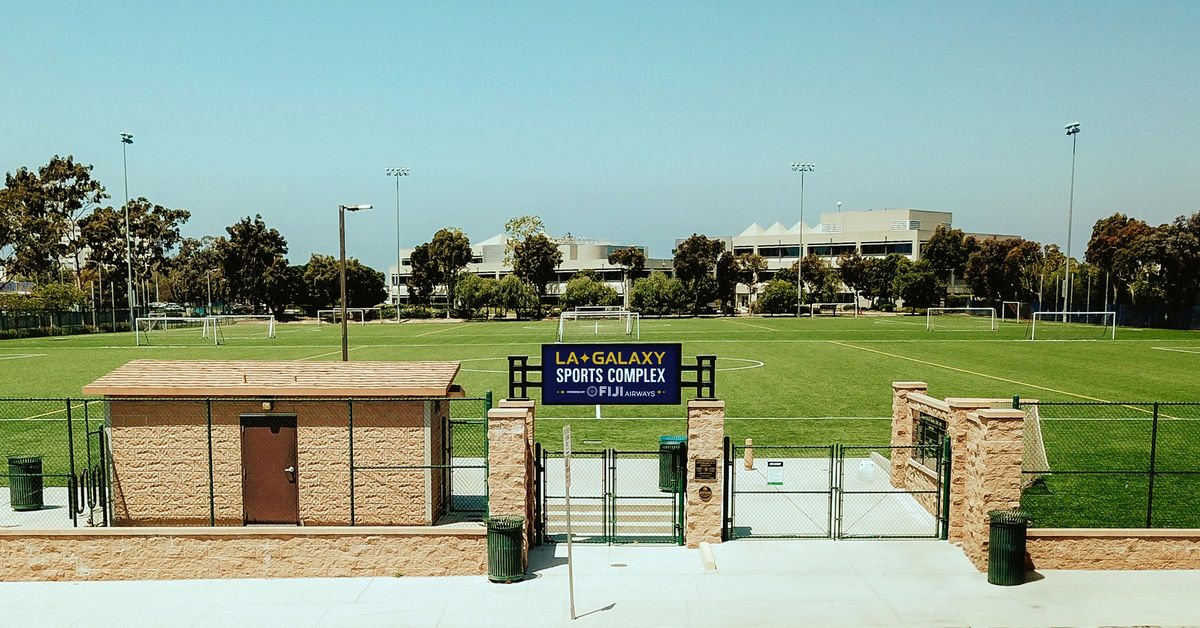 Fiji Airways Takes Flight as an Official Partner of the LA Galaxy
Multi-Year Partnership Includes Naming Entitlement to the Club's Multi-Use Athletic Field in Torrance Now Known as the "LA Galaxy Sports Complex Powered by Fiji Airways" and Deepens the Airline's Ties to Southern California's Vibrant Soccer Community
LOS ANGELES--(BUSINESS WIRE)-- Five-time MLS Cup champions, the LA Galaxy, have launched a wide-ranging new partnership with Fiji's national airline, Fiji Airways. The multi-year agreement, brokered by AEG Global Partnerships, strategically aligns the brands and establishes Fiji Airways as an official partner of the club as well as a presenting partner of the Galaxy's Torrance-based, multi-use athletic field. Effective immediately, the field – a joint venture between the LA Galaxy, the City of Torrance and the Judicial Council of California, the policymaking body of the California Courts system, will be known as the LA Galaxy Sports Complex Powered by Fiji Airways.This is Fiji Airways' first partnership with an MLS team to date, and will serve as a bridge, helping connect and familiarize passionate soccer fans in Los Angeles and beyond, many of whom are also avid travelers, with the ease, beauty, and accessibility of travel to Fiji.
The newly named LA Galaxy Sports Complex Powered by Fiji Airways (Photo: Business Wire)
"We are thrilled to say 'Bula' to this exciting partnership with the LA Galaxy, a club that embodies the same values of warmth, community, and teamwork that Fiji Airways holds dear," said Andre Viljoen, Managing Director and Chief Executive Officer of Fiji Airways. "This collaboration marks the beginning of a journey that not only brings soccer enthusiasts closer together but also invites them to discover the pristine beauty and hospitality of Fiji. With open arms, we welcome LA Galaxy fans to embark on this incredible adventure with us, as we aim to create lasting memories and connections."
Following rugby, soccer is the second most popular sport in Fiji. At the same time, soccer is growing exponentially in North America, and will soon reach its biggest inflection point with major events on the horizon scheduled to take place in the U.S. Over the next three years, the U.S. is set to host the 2024 Copa América, the 2025 FIFA Club World Cup, and the 2026 FIFA World Cup, which will take place in Los Angeles specifically putting an international spotlight on the region's soccer community with millions of viewers and visitors from around the world. The arrival of these marquee events combined with the growing popularity of the sport in both markets make this collaboration not only well timed, but also a culturally significant opportunity for the airline to help grow one of Fiji's most beloved sports abroad. Additionally, with major events converging in the U.S. and Los Angeles, a strategically important market for the airline, this partnership with the LA Galaxy strengthens Fiji's brand and visibility amongst soccer enthusiasts in Southern California, at a pivotal moment in the sport's growth.
The airline's entitlement to the newly named LA Galaxy Sports Complex Powered by Fiji Airways is a major cornerstone of the agreement, and a game-changer for the local community. Located on 6.2 acres, the state-of-the-art sports complex serves as a major draw for the active, sports-loving residents of Torrance and the broader South Bay community. It is a prized element of the City's recreational infrastructure, featuring high-quality synthetic turf and energy-efficient sports lighting for year-round soccer, football, lacrosse, rugby, as well as events, tournaments, and clinics.
As part of the agreement, Fiji Airways will also have a significant brand presence at Kinecta Soccer Center, Powered by the LA Galaxy, which is conveniently located across the street from the LA Galaxy Sports Complex Powered by Fiji Airways. The Kinecta Soccer Center, Powered by the LA Galaxy provides local residents with year-round access to futsal, a typically indoor, modified version of soccer, and high-quality sports programming. The 73,000-square-foot, state-of-the-art facility features five indoor futsal fields, two turf fields, three volleyball courts, a training center and numerous other recreational amenities for guests to enjoy. It also plays host to a full schedule of family-friendly events, including tournaments, kid camps and more. As a training facility and home to several youth and adult futsal leagues, the facility has a long-track record making a positive impact on the community and helping grow the next generation of soccer fans and players. Fiji's substantial branding across both the sports complex and the soccer center provides a significant opportunity to introduce soccer fans to its airline, while enhancing its connection to thousands of families across the Southern California region. A major hub for soccer in the local Torrance area, the Kinecta Soccer Center and the LA Galaxy Sports Complex Powered by Fiji Airways receives an average of 300,000 visitors annually and currently hosts 250 youth and adult teams including a variety of LA Galaxy-specific programming.
"The LA Galaxy is proud to partner with a best-in-class airline like Fiji Airways," said Tom Braun, President of Business Operations and Chief Operating Officer of the LA Galaxy. "Our Torrance-based LA Galaxy Sports Complex Powered by Fiji Airways is just 10 minutes from our club's home stadium and is a pillar in the local community. Integrating Fiji Airways into the fabric of our club at Dignity Health Sports Park and the local community where our fans live, work, and play is the perfect opportunity to give back to the people we serve. We are very excited about this new partnership and look forward to introducing more of our LA Galaxy fans to their travel offerings."
Fiji is becoming an increasingly popular travel destination across North America, with Los Angeles representing a high-growth market. Located in the heart of the South Pacific Ocean, its stunning beaches and rich cultural experiences make it a top choice, particularly amongst couples and families. Today, it has never been easier to fly from North America to the beautiful islands of Fiji, especially for LA Galaxy fans residing in Southern California. With Fiji Airways offering daily nonstop flights (10-hour overnight) from Los Angeles International Airport (LAX) to Fiji, Angelenos can go from Los Angeles to happiness in just a few hours. With its tourism hub located at the Nadi International Airport (NAN) in Fiji, the airline conducts international services flying passengers and cargo, and offers convenient connections to over 15 countries. Some of its highlighted offerings include daily non-stop service three times weekly from SFO (San Francisco) and three times weekly from HNL (Honolulu) to Fiji, and on to Australia, New Zealand, Samoa, Tonga, Tuvalu, Kiribati, Vanuatu and Solomon Islands and New Caledonia. Moreover, the recent addition of two new world-class Airbus A350s to its fleet, an aircraft which represents the latest in aviation technology combined with unparalleled comfort and style, underscore the airline's commitment to providing even more guests with increased accessibility, affordability, and best-in-class travel experiences.
"Known world over for their warmth and hospitality, it is our great pleasure to say 'Bula' to Fiji Airways, which means welcome in the Fijian language," said Rashid Dadashi, Director, AEG Global Partnerships. "Fiji Airways' commitment to the sport of soccer and dedication to the Southern California community align perfectly with the LA Galaxy's values, making this a game-changing partnership. We're excited to embark on this journey together and create memorable experiences for our supporters here in LA and for soccer fans everywhere."
In celebration of the new partnership, Fiji Airways and the LA Galaxy will launch multiple four-week flyaway sweepstakes across the club's social channels, giving LA Galaxy fans an opportunity to experience the beauty of Fiji and win exclusive travel prizes. Starting Monday, October 2, 2023, through Friday, October 27th, 2023, interested fans are encouraged to participate in a chance to win free round-trip flight tickets from Los Angeles to Fiji each week. More information on sweepstakes details and guidelines will be released via the club's social channels and www.lagalaxy.com/fijiairways.
The partnership also includes an enhanced brand presence for Fiji Airways across the LA Galaxy's digital channels as well as at its home, Dignity Health Sports Park (DHSP). As an official partner of the club, Fiji Airways will enjoy prominent brand visibility on game days at DHSP and will bring its brand to life for fans as the presenting sponsor of one title night game for every year of the contract. Fiji Airways will also introduce a branded activation space on DHSP's main concourse, adding to the game-day excitement with immersive fan experiences within the Galaxy FanFest. Additionally, Fiji Airways and the LA Galaxy will bring fans closer to the beautiful game through a number of in-market social media promotions, branded content and collaborative community events over the course of the relationship.
ABOUT FIJI AIRWAYS
Founded in 1951, Fiji Airways Group comprises of Fiji Airways, Fiji's National Airline and its subsidiaries: Fiji Link, its domestic and regional carrier, Pacific Call Comm Ltd, and a 38.75% stake in the Sofitel Fiji Resort & Spa on Denarau Island, Nadi. From its hubs at Nadi and Suva International Airports, Fiji Airways and Fiji Link serve 108 destinations in over 15 countries (including code-share). Destinations include Fiji, Australia, New Zealand, the US, Canada, the UK, Hong Kong (SAR China), Singapore, India, Japan, China, Samoa, Tonga, Tuvalu, Kiribati, Vanuatu, Solomon Islands and New Caledonia. The Fiji Airways Group brings in 64 percent of all visitors who fly to Fiji, employs over 1000 employees, and earns revenues of over FJD$1 billion (USD $460m) pre-COVID. Fiji Airways rebranded from Air Pacific in June 2013.
ABOUT AEG
Headquartered in Los Angeles, California, AEG is the world's leading sports and live entertainment company. The company operates in the following business segments: Facilities, which through its affiliation with ASM Global, owns, manages or consults with more than 300 preeminent arenas, stadiums, convention centers and performing arts venues around the world; Music through AEG Presents, which is dedicated to all aspects of live contemporary music performances, including producing and promoting global and regional concert tours, music and special events and world-renowned festivals such as the Coachella Valley Music and Arts Festival; Real Estate, which develops world-class venues, as well as major sports and entertainment districts like Crypto.com Arena and L.A. LIVE, Mercedes Platz in Berlin and The O2 in London; Sports, as the world's largest operator of high-profile sporting events and sports franchises including the LA Kings, LA Galaxy and Eisbären Berlin; and Global Partnerships, which oversees worldwide sales and servicing of sponsorships including naming rights, premium seating and other strategic partnerships. Through its worldwide network of venues, portfolio of powerful sports and music brands and its integrated entertainment districts, AEG entertains more than 160 million guests annually. More information about AEG can be found at www.aegworldwide.com.
About the LA Galaxy
The LA Galaxy are Major League Soccer's most successful club. Based in Carson, Calif. at Dignity Health Sports Park, the Galaxy have won the MLS Cup a record five times (2002, 2005, 2011, 2012, 2014), the MLS Supporters' Shield four times (1998, 2002, 2010, 2011) and the Lamar Hunt U.S. Open Cup twice (2001, 2005), and one Concacaf Champions Cup (2000) since their inception in 1996. Under the direction of LA Galaxy President of Business Operations and Chief Operating Officer Tom Braun on the business operations side and LA Galaxy Head Coach and Sporting Director Greg Vanney on the soccer operations side, the Galaxy are the premier club in MLS, with stars like Landon Donovan, David Beckham, Robbie Keane, Steven Gerrard, Riqui Puig, Zlatan Ibrahimović, Javier Hernandez and Cobi Jones representing LA over the team's 27 years in MLS. For more information on the LA Galaxy, visit www.lagalaxy.com.
Source: AEG