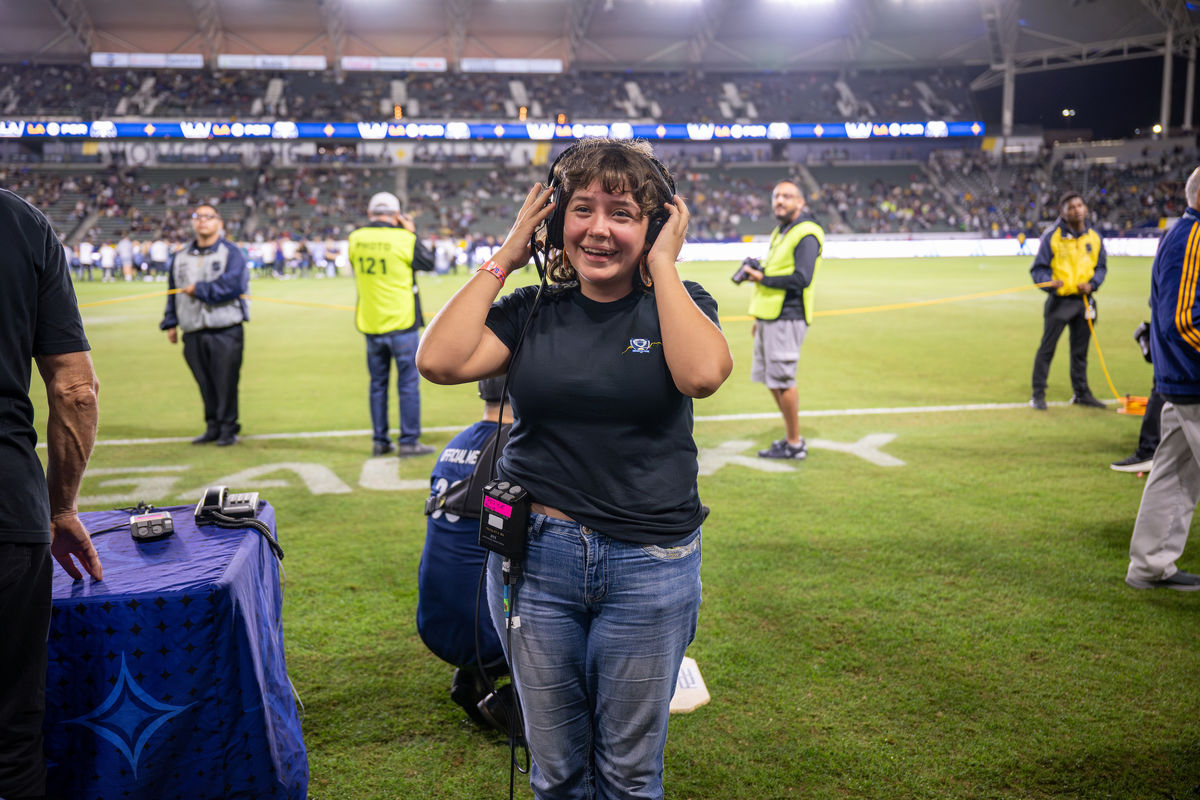 LA Galaxy Teams Up With the Play Equity Fund and Capitanes Del Futuro To Host Two-Day Career Exploration Event for Girls
Interest and participation in women's sports has been on the rise as observed most recently during the FIFA Women's World Cup 2023 with record breaking attendance numbers and ticket sales. However, women of color have been historically underrepresented in sports leadership roles.
AEG's LA Galaxy, in collaboration with The Play Equity Fund and Capitanes del Futuro, organized an empowering two-day career exploration event at Dignity Health Sports Park (DHSP) in Carson, CA for Hispanic and LatinX students from the Girls Academic Leadership Academy (GALA) in Los Angeles, CA to learn about careers in professional sports.
The two-day event kicked off on September 26th with an exclusive behind-the-scenes tour of DHSP led by LA Galaxy's mascot Cozmo. The tour was followed by a panel featuring LA Galaxy employees from various departments including broadcasting, programming, creative, global partnerships, content marketing, game presentation, ticketing, team administration and marketing. Each bringing their own expertise and experience, the panelists shared their own personal experiences working and breaking into the sports industry. After the panel, students participated in round table discussions with the panelists to ask questions and gain valuable insights into potential career paths in sports.
"This career exploration event was a wonderful opportunity to foster and empower the next generation of leaders," said Mariah Rodriguez, Community Relations Specialist at the LA Galaxy. "We wanted to expose these girls to an industry that they might have not considered prior to coming here today but hopefully we ignited an interest to pursue a career in sports."
Returning on September 30th, the GALA students had the opportunity to see firsthand what it is like to work on game day, which coincided with the LA Galaxy's Hispanic Heritage Theme Night match. As a final surprise after the game, LA Galaxy player Diego Fagundez made a special appearance and presented each student with a captain's armband, symbolizing leadership and empowerment.
"This is honestly a huge opportunity and I wish there was something like this going on when I was in school," said Calysta Tyree, Social Media Producer at the LA Galaxy. "As a young Latina woman who now works in sports its super crucial to see not only females in these spaces but also the representation of our culture."
Capitanes del Futuro combines the passion for soccer with education and career building opportunities. It exposes youth to the full set of possibilities, so they can become the future leaders America needs. Capitanes del Futuro is a unique program built around the world of soccer, to prepare the next generation of Hispanic leaders and help them embrace their Hispanic values as their superpower.
The Play Equity Fund is focused on bringing the transformational power of sport and play to all children, regardless of their race, gender, zip code or socioeconomic status. The Play Equity Fund is the only nonprofit focused solely on Play Equity as a social justice issue. As an organization, The Play Equity Fund finances and scales effective and impactful programs, including school-based sports, coaching education, infrastructure development and juvenile justice programs.