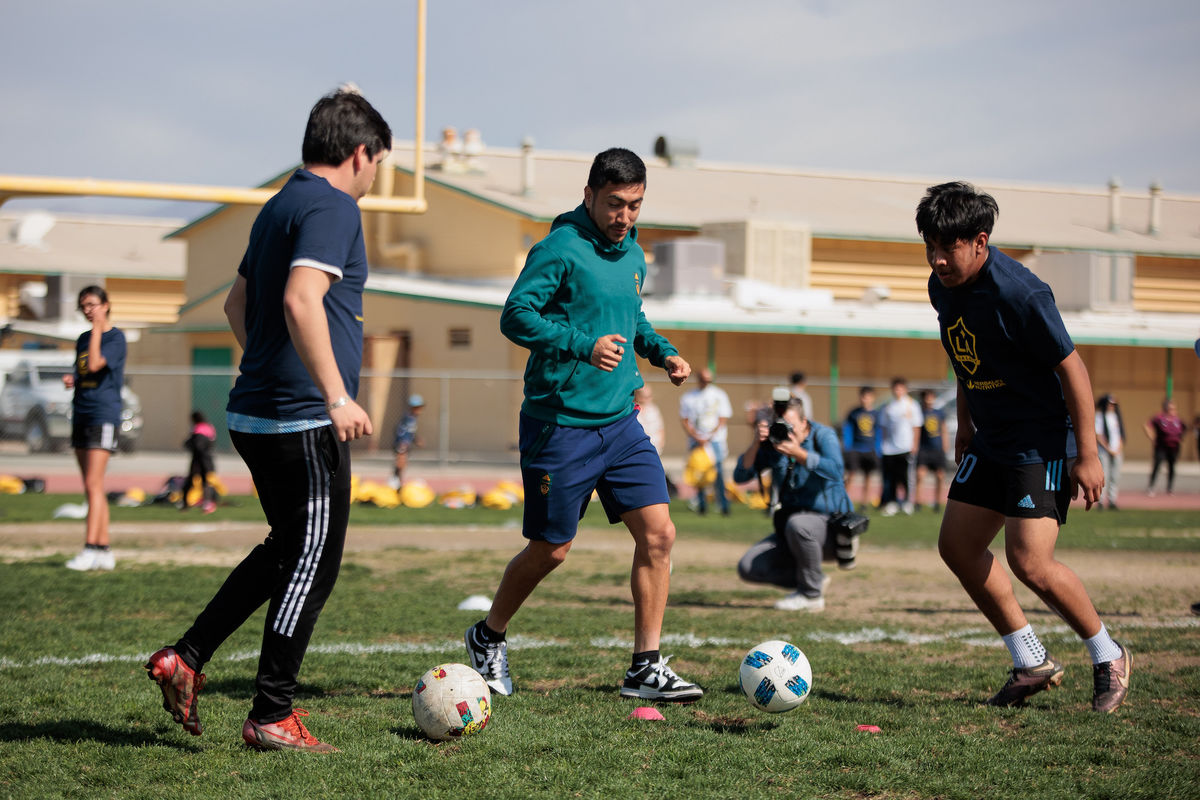 LA Galaxy's Jose "Memo" Rodriguez Inspires Student Athletes From Coachella Valley Unified School District Migrant Program
To uplift and inspire kids from Coachella Valley, AEG's LA Galaxy Foundation and Coachella Valley Unified School District teamed up to host a career day at Coachella Valley High School in Thermal, CA, led by LA Galaxy midfielder Jose "Memo" Rodriguez.
On Monday, February 13, Rodriguez and the club's broadcaster Joe Tutino spoke with 50 migrant student athletes at the high school about the player's upbringing, life as a professional athlete and what motivates him.
"I am so proud to be a part of an organization that has allowed me to use my platform to support and make an impact in the community," said LA Galaxy's Memo Rodriguez. "I hope our visit today encourages these students to continue working hard in school and it reminds them to draw on the strength of family and community to achieve their goals."
Following the conversation, the LA Galaxy Foundation surprised students with LA Galaxy shirts and tickets to the club's home opener at the Rose Bowl in Pasadena, CA on February 25, 2023. In addition, Gabriel Osollo, Senior Manager, Community Relations for the LA Galaxy Foundation, presented the Coachella Valley Unified School District's Migrant Program with a check donation in the amount of $5,000. After the presentation, students participated in a 60-minute soccer clinic led by Rodriguez.
CVUSD's Migrant Program helps support student from migrant families succeed in school. All students in the program have parents or families that had to move in and out of the area to follow seasonal agricultural work. To learn more about the Migrant Program, please click here.
The LA Galaxy Foundation, an organization associated with the LA Galaxy, is dedicated to assisting the community in which the team lives, works, and plays. Through soccer programming that promotes inclusion for all athletes, education opportunities, and a strong spirit of volunteerism, LAGF is proud to facilitate over 150 events annually to support the local Los Angeles community. To learn more about the LA Galaxy Foundation, please click here.